---
Project Description
Chris Daigle, Vice President at Winterberry Irrigation explains, "We had a full schedule of work booked when we were contracted about American Dunes. It didn't matter. We wanted to do this. We mobilized in four weeks. My dad was a veteran. We work regularly with the Veterans Administration on cemeteries. Supporting this project was the right thing to do."

To accommodate design changes, we sometimes had to uninstall an irrigation line we had just installed," said Chris. "Not everybody is up for that kind of challenge, but we are flexible. To pull off a project like this one, you have to be able to get along with a lot of different personalities and disciplines."

"We have some unique equipment that gives us an edge. We give a 10-year warranty on anything we do that is monolithic, meaning fused together, plus we are partnered with a company that offers a 25-year warranty on infrastructure and materials. That's different from other irrigation contractors."

Every hole the contractors opened seemed to fill with water as they dug. The National Weather Service described the weather saying, "West Michigan experienced record-breaking cold, massive hail, strong winds and beach erosions," which included windstorm so severe and ill-timed that the course seeding schedule was thrown off by eight weeks.
Reprinted in part from the April 2021 Golf Course Trades magazine.
In Process Photos
Golf Course Project Completion Photos
---
View More of Winterberry Irrigation's Highlighted Projects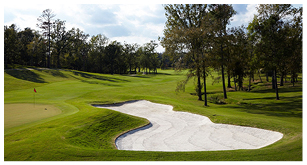 Southern Trace
18 Hole Golf Course Installation
Shreveport, LA